Trophies
Emura's has been supplying Maui with sports and custom trophies for decades. We offer free engraving on all trophies. Emura's offers trophies from the small achiever series to the large tournament style trophies. Contact Emura's for details or come by and visit our showroom in Wailuku, Maui.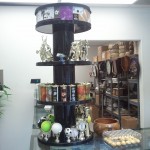 Emura's makes trophies for all school and public sports. Baseball, football, basketball, soccer, tennis, swimming, karate, judo, wrestling, hunting, fishing and more! We also create custom tournament trophies up to 4 feet tall! Visit us and we can help you create the right trophy for your sporting event.
Trophies come in hundreds of different sizes, colors and styles. These soccer tournament trophies offer a spinning feature on top. Emura's can create a trophy for your next big tournament. Contact Emura's for more details or stop by our showroom.
Remember your first sports trophy. Emura's Achiever Plus series trophies will make any young youth sports player feel like a big league player. Emura's can also bring these trophies to life with their new spinning feature. Adding fun to a classic style sports trophy with a spinning top figure. Contact Emura's for details.
Emura's Achiever Series Trophies
Emura's Championship Trophies
Classic gold cup trophies.